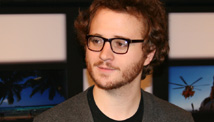 Interesting title as the author, Christian Launder admits to having always been white. Launder is the writer of the blog (And now Book!)
Stuff White People Like
(which you all know I follow) and a Canadian immigrant. He gives an interesting perspective on the new immigration law that passed in Arizona. But even better he addresses that such discriminatory legislation was once passed to keep Europeans out. The Jewish, Irish, Italian and Eastern European, "the Ethnic-Whites". But now they are they are absorbed into American society and appearance has a lot to do with it.
Fantastically well written. I am jealous.
Check out on cnn.com
here
.
photo via CNN